Confetti

You can create not only 22 holiday designs but, 22 quilt blocks to go with them.


SALE

$ 69.99 $ 41.99
Quantity:






Farm Country Quilt

There are 20 different scenes and 4 different border blocks. 20 block designs and 4 border blocks in 4 sizes each


SALE

$ 69.99 $ 41.99
Quantity: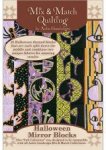 Halloween Mirror Blocks

We all love Halloween fabrics, so this collection allows us to combine our favorite fabrics with beautiful embroidery designs! The end result is stunning.


SALE

$ 59.99 $ 35.99
Quantity:






Modern Shadow Work

The technique we use in the shadow work collection is amazing. When we were developing our shadow work technique everyone would pass by as it was stitching and wonder how it was done


Price

$ 69.99

Quantity:






Paper Cut Snowflakes

This collection contains 15 different snowflakes that are created in a few easy steps. The echo stitching that is shown in the block is created with a 7-ply stitch so it forms a beautiful accent to the snowflakes.


Price

$ 34.99

Quantity:






Time in a garden

Time in a Garden brings your beautiful garden to life on a quilt or pillow. The collection has garden fairies, gnomes, cats, bees and of course flowers.


SALE

$ 69.99 $ 41.99
Quantity:






Under the Sea

We were swimming with ideas, and we decided to create a stylized collection using some of our favorite sea creatures that would really hook your attention!


Price

$ 69.99

Quantity: